What Is Hand Blender?
The hand blender was invented in 1950 by Roger Perrinjaquet, a Swiss inventor who patented his idea in March 1950.
A hand blender is a simple-to-use kitchen gadget that is used for pureeing soups or blending milkshakes in small quantities. These are utilized when you don't want to use large electric blenders or when you only need to make something for one person.
What Makes Up a Hand Blender?
In most cases, a hand blender is made up of two parts. One is the upper portion, which is used to hold the blender, while the lower part comes in the form of an attachment with sharp blades.
In most cases, the blender comes with complete manufacturer's instructions that can help you assemble it with ease.
It also comes with an electric motor that powers the fast-rotating cutting blades. The power rating of the motor ranges from 120W for home use to 600W and above for commercial hand blenders.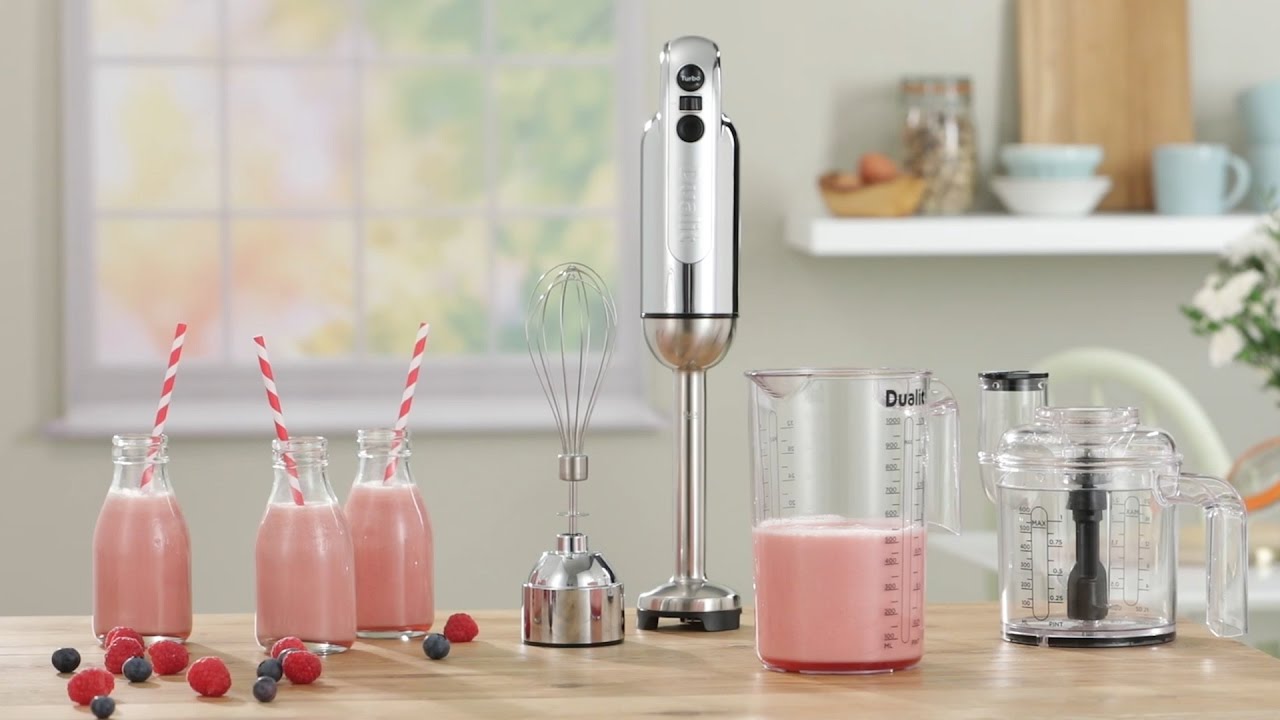 Advantages Of Using A Hand Blender
1. Small and Portable
The small and portable design makes it easy to use. The average kitchen has limited space hence many homemakers search for a portable and handy appliance that can make their process of cooking easy.
2. Versatility
The unique feature of a hand blender is its versatility. It not only blends food items but can also be used to chop food items.  You can prepare various kinds of foods with it – from blending smoothies, making baby food, making whipped cream, beating eggs, or pureeing fruit.
3. Silent Operation
A hand blender makes less noise. In fact, it hardly makes any noise and is almost silent. The motor is covered in a plastic handle.
Hence, all the sound generated from the motor is inside the casing and distributed to whatever you are preparing, making the appliance extremely quiet.
4. Easy to clean
The best hand blenders in India are easy and simple to clean. Unlike other appliances that come together with many parts, an immersion blender has none.
Moreover, this appliance is water-proof. Simply fill a pot with water and some mild detergent, place the immersion blender in the water, and then turn it ON.
It will be clean in no time. Lastly, just wipe it with a towel.
5. Increased Efficiency
A blender is not limited to the size of the blending bowl. Instead, the blending can take place directly in the cooking pot. This way you can easily work with larger amounts of liquids and soft ingredients.
6. Affordable
This useful kitchen tool is reasonably priced. Even if you are low on budget, you can get great models with amazing features at an affordable price.
The Final Words
We are sure you now have not only a clear idea about what is a hand blender, but you are also considering buying a good model for yourself if you don't already have one.
As mentioned above, a hand blender is a very handy tool that can be used in a variety of situations and make things simpler for you in the kitchen.
It is also easy to use and clean and available in a compact design. Above all, it is not an expensive gadget, so why miss out?
Post Related Hand Blender:
The section contains posts that are guides for beginners about buying a Hand Blender.
All the essentials are covered in the Hand Blender – buying guide.