The best filter coffee maker will make you the perfect black coffee, and all you need to do is add milk to recreate all those lovely coffee shop flavors.
There are many types, as seen in our coffee machine guide, that will make delicious cups of black coffee.
Basically, a filter coffee machine offers a user-friendly interface, easy setup, low maintenance, and can brew 10 to 12 cups at a time.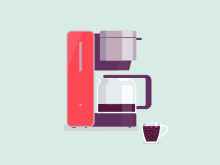 Keep scrolling through our top picks – These coffee machines have been carefully selected based on ease of use, ease of maintenance, performance, and price so that we can help you choose the best filter coffee machine for you.
Advantages of filter machines:
You can make more coffee at once. This is particularly useful when drinking numerous cups one after another or entertaining a large group of friends.
The majority of people will find filter coffee machine, easy to afford
It will allow you to maintain the temperature of your coffee for up to 4 hours. This means you can make coffee first thing in the morning, pour a little out of the jug every now and then until lunchtime, and get rid of the need to re-brew it every time you want to enjoy a cup.
Filter machines can be used to make tea and other herbal teas, as well as coffee.
OUR BEST FILTER COFFEE MACHINES PICKS FOR 2020
Are you worried about finding the best filter coffee machine at the best price? Don't be: they all serve you at the best available price, in your favorite stores.
We know it can be confusing. That's why we've done the research for you and narrowed down the options on our top 3 list, based on feedback from actual online customers.
1. MORPHY RICHARDS 162010 POUR OVER FILTER COFFEE MAKER
It is easy to use, but with enough functionality to make your life a little easier,
This filter coffee maker from Morphy Richards is functional, usable, and this filter coffee machine will prove useful in every kitchen.
What is it good at?
The 'showerhead' pour-over technology creates a full flavor, so it's good for black coffee drinkers who like to really taste those notes in their favorite grind.
The hot plate heats your coffee for 25 minutes and the flavor changes very little at that time.
Why do we like it?
It's not too bulky and its sleek design means we'd be happy to leave it on our countertop.
It takes just over seven minutes to brew a liter of coffee, so it's pretty quick, plus we like how you can select different strengths for your brew.
What do we not like?
The water tank is not removable, which is not a huge problem, but it does mean that it can be difficult to fill and clean.
Our favorite feature?
You can set a timer on your coffee machine so you can have a full carafe waiting for you when you wake up.
2. RUSSELL HOBBS LUNA 23241 FILTER COFFEE MACHINE
This easy-to-use and affordable filter coffee machine are ideal for those who have a busy home life and depend on coffee to keep going.
What is it good at?
Not only can you make up to 14 cups of coffee with a single brew, but the coffee will stay hot for a while.
Why do we like it?
For all the features that we are going to mention, the most prominent one for us is the automatic cleaning function. Maintains your filter coffee machine in top condition.
Then all you need to do is run a cycle with a proprietary brand of descaler suitable for use on plastic bodied products, according to instructions.
What do we not like?
As we have already mentioned, the cooking zone keeps the brewed coffee hot for 40 minutes.
3. TOWER T13001 10 CUP FILTER COFFEE MACHINE
The classic Tower filter coffee maker gets a sleek, modern makeover in this budget coffee maker.
If you just want a great cup of coffee at a reasonable price, this is the machine for you.
What is it good at?
It is anti-drip, keeping surfaces clean; It has a permanent nylon filter for less waste and easy cleaning.
In addition, there is a warming plate to keep the coffee hot for up to 50 minutes.
Why do we like it?
This model is the cheapest on our list of the best filter coffee makers. And you get a very high-quality coffee machine for your money.
What do we not like?
Unsurprisingly for the price, it feels a bit flimsy, but it comes with a three-year warranty, considering its price is pretty good.
Conclusion:
Morning coffee can make or break your day. If you are not a morning person, then fresh coffee can boost your mood and get your day off to a good start.
But the coffee-making process is a bit challenging, especially in the morning mood. If you feel the same, coffee makers are a great solution.
Coffee makers not only eliminate the daunting manual coffee-making process but also provide a café experience at home.
FAQ
In the short term, caffeine can increase metabolic rate and increase fat burning, but after a while, people become tolerant of the effects and it stops working. But even if coffee doesn't make you burn off more calories in the long run, there is still a chance that it will reduce your appetite and help you eat less.
A coffee filter is a utensil for preparing coffee, usually made of disposable paper. This allows you to trap the coffee grounds and allow the liquid coffee to flow. Paper filters remove oily components called diterpenes; These organic compounds, present in unfiltered coffee, have anti-inflammatory properties.
A study published online on April 22, 2020, by the European Journal of Preventive Cardiology found that filtering coffee (for example, with a paper filter) is good for health, particularly for older people.